For all those dsj/promoters/bands/friends
that come visit me from out of town, and ask me the ever so
popular question "where can go but a record/cd in miami"
here is a small write up.....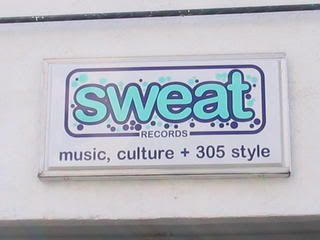 Most of this info was taken from the stores website
(In order to keep it accurate i have decided
to repaste most of it) Read on:
Sweat Records is a full-service indie music store in the heart of Miami bringing you CDs, LPs, DVDs, magazines, accessories, Japanese toys, unique gifts, local art, music + other random merch. We are located inside of Miami's legendary Churchill's Pub (est.1979).
Sweat Records has a unique selection of CDs and LPs geared toward the independent/eclectic/underground/aesthetic musical tastes of South Florida. The store features a high-end community DJ setup where anyone from novices to pros can come in and spin, a book club, an entertainment center and so much more
Above: Pic of Lauren Reskin
(Owner of Sweat Records guarding the red stripe)
By day, Lauren (or Lolo as she's known to most) spent 5+ years as a sales associate at the Miami Virgin Megastore and gleefully sold her last Linkin Park CD ever in January 2005 when she quit to pursue Sweat full-time. By night, Lauren is well-known locally as a DJ and club promoter. She was one of the founding DJs at Miami staple Revolver, created the popular 80s night VICE, and has promoted for long-running indie weekly Poplife, among others. Currently, she is 1/2 of the popular roller skating party "ROLL OUT at Rainbow Sk8" Tuesdays at the Gold Coast Roller Rink in Ft. Lauderdale. Now that Sweat is up and running, Lolo has started a variety of other projects including a 'zine called The Sweater, a SoFla-centric record label called Sutro, as well as working as a writer, graphic designer and event coordinator.
PS: Lauren has become a staple in miami, she started her dj career at revolver where she contributed to its success, to the numerous events she has brought to this city, she has always avoided the drama, and has taken a relevant role in music scene in Miami by providing a independant record store.
An outlet that has been forgotten since the Y & T days.
For directions to the store or more info go to WWW.SWEATRECORDSMIAMI.COM