Charlotte Gainsbourg is the french product of the late Serge Gainsbourg & Jane Birkin. Like Serge she has decided to create music ,recently (kinda) she put out a record with colabs w/AIR & Jarvis Cocker of Pulp fame. You can definit. hear the Air influence, the music sounds entirely like AIR with her singing on it. But her voice is all that really matters it's kinda scary to hear her father's influence. Serg left us with countless musical masterpieces & his greatest masterpiece his daughter!
Above: Charlotte Gainsbourg-The Operation vid
PS: You might recognize Charlotte from the movie "The Science of Sleep" She has been acting since the 80's on and off.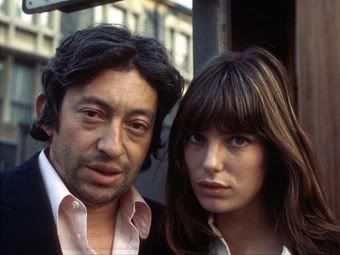 Above: Serge Gainsbourg & Jane Birkin
I decided to add below a Serge Gainsbourg vid for the population of musically challenged.
Above: Serge Gainsbourg/Brigitte Bardot- Bobbie & Clyde Vid